By Joel Rubin
One reason I started this business in 1991 was the opportunity to be on the ground floor of big things. As a reporter, you generally know little about a new idea, a big event or an amazing product or service until some PR type tells you about it. Being there on day one to shape the story, or conceive it, is exciting and that's what keeps me going at age 63.
So do the younger people on my staff whom I have the honor to mentor and lead. Sometimes they laugh at my suggestions, but other times, they say "great" and off we go. It works the other way too. We are now in the midst of formulating a big project that we created out of thin air, "Rock the Squads!", next May 7 to call attention to the amazing and selfless work done by our volunteer EMTs in Virginia Beach. I thought of it, Jennifer named it and Ashley, who works year round on behalf of Kitty Schaum and the Virginia Beach Volunteer Rescue Squad Foundation, will be in charge of it. That's how we roll at RCG.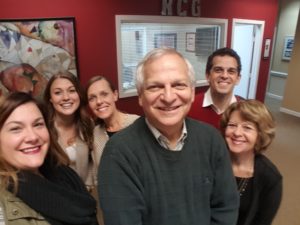 Ashley and I work together on behalf of TowneBank, which had its challenges in 2016 after we learned the company's wonderful and our beloved marketing director, Beth Prever, had been diagnosed with ALS. Her battle is so courageous, and we worked extra hard as Beth lost her ability to speak to make her signature effort, the annual JT Walk at the Oceanfront, very special. Thank you Mike and Laura at Skydive Suffolk for helping Beth check skydiving off her bucket list.
Jenn and Jessica had to learn a little Hebrew in 2016 after I convinced Beth Sholom Village to name its major fund raising campaign Kahbaid, or Honor, as in Honor Your Father and Mother. It's going well, and I must credit Marcia, Steve and David at BSV for their confidence in us. When you have supportive and fun clients like them, and the wonderful people at ACCESS College Foundation (Bonnie Sutton and her troops), it makes the days whiz by.
That's why I appreciate Rob Johnson, Plant Manager at Wheelabrator Portsmouth, who is a joy to work with. Same with Andrea, Valerie, Brittany, Joe, Mike, Bob, Eddie and the gang at ESG, who have given their all to bring an Arena to the region. I hope it happens. Videographer Bobby Cullipher and I produced a lyrical video for Steve and Stephanie at SEVACF, and boy did we hit the jackpot in 2016 when TFC Recycling and Habitat for Humanity brought us aboard. Dan, Christine, Brad, Josh, Mike, Leanne, Brad, Paul, Allie, Nick et al…you folks are incredible. Connecting Addie Wright Thomason from the Virginia Beach Community Development Corporation with Habitat to be their fundraising lunch speaker was a real coup and an example of our belief that relationships are everything in business.
I had the opportunity to coordinate content for a State of the City address this year. The mayor was the uber-talented Donnie Tuck of Hampton. Thank you to Mary, Leonard, Robin and Your Honor for the chance to fashion a really unique video and add some other first ever elements to the day. Hope to do more.
Barbara Murray, the savvy director of the Southeast Maritime and Transportation Center, has become a friend as well as a client because she lets me and the super shooters and editors at JPixx tell stories on video, a passion I will never lose. And speaking of passion, thank you Jim Lang of Pender & Coward who went above and beyond to clear a floating junkyard for his legal client and then organized a team of volunteers to clean up the mess left behind. And in the process I got to produce a most satisfying video to chronicle that journey.
We had our share of crises to manage in 2016, for organizations in a variety of industries. It comes with the territory, but I actually enjoy the adrenaline rush that comes with those challenges and appreciate the cooperation of reporters who always want to do what's right and fair. I preach to my team to be responsive and honest, and it never fails us.
We collectively learned so much this past year, about skydiving and dentistry, Indian culture and wounded warriors, senior citizens and health benefits and particularly diamonds, thanks to Diamonds Direct, which brought us on for their grand opening and is keeping us engaged in building community partnerships in 2017. We also did quite a bit for which we made no money, pitching coverage for Roc Solid, producing a really cool Jewish songfest with TowneBank's Morgan Davis for Temple Israel and rescuing the Virginia Sports Hall of Fame from the brink. Stay tuned for exciting news in 2017.
Thank you to Danny and Sara Jo for making Rubin Communications Group such a magnificent family business. It's neat to have you in the next offices, working for ourselves and our community. Now let's get moving on the next 25 years.