Not all the work we do or time we allot at Rubin Communications Group is compensated.
We adopt charities, serve on boards, offer free advice and make donations, often to events that are meaningful to our clients.
Give Local 757, an annual event coordinated by the three major community foundations in the region (Peninsula, Southeast and Hampton Roads) reach out to Joel Rubin. Not knowing exactly what he was getting into, he agreed to help with PR on a pro-bono basis, in exchange for our logo being placed on all promotion.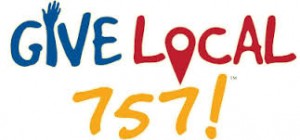 "Do you have any media sponsors, ones that might donate free airtime in exchange for cross advertising?" Joel asked innocently. They didn't, so he pitched the idea to Kari Jacobs, the GM at community-minded WVEC-TV and to Allen Fabijan, the creative marketing guru at multi local radio station owner Sinclair Communications.
Both outlets signed on. Channel 13 really jumped in, sending a production crew and its entire morning anchor team to Fort Monroe to shoot a promo with more than a hundred representatives of non-profit organizations that would benefit from Give Local 757. It was a one-day event on May 3 where citizens could visit a single website to donate to one or more charities.
As May 3 approached, the advance publicity kicked in. Besides Sinclair and WVEC, The Virginian-Pilot and Daily Press donated ad space and a Pilot editorial encouraged participation. On the day of the event, even more stations plus social media pages beat the drum for Give Local. And when midnight struck that Tuesday, the gifts began pouring in online. It appeared that the 24-hour effort might actually make its ambitious million-dollar goal, a major jump from the $450,000 raised in 2015.
But then the server, managed by a vendor in Texas with experience in these kinds of events, crashed at 10 a.m. EDT. (Whether it was too much volume or some other hardware or software issue, we are not sure.) Not only were donors in Hampton Roads not able to access the website to give but so were those in 60 communities across the country, including such metro areas as New York and Seattle. It was, in a word, a catastrophe. Service was restored but not for 12 hours. Most communities, including ours, extended Give Local 757 through May 4, but momentum was lost and goals were not met.
Joel did the best he could to help, offering crisis assistance and alerting local media to the problem and the additional day of giving. Fortunately, many folks returned to www.givelocal757.org, and when all the pledges were in, the project netted a little over $600,000. "That's a 40% increase over last year," Flynn told the non-profits,"proving once again, philanthropy is thriving in our region."
Needless to say, GiveLocal757 organizers will consider a different online vendor for 2017. Thankfully the media sponsors that RCG recruited are willing to come back, and who knows, maybe the problems that plagued the program this year will encourage donors next spring to make up what was lost. "I'm sure I'll be willing to help," says Joel. "because I really want to see them hit their target."