Rain Does Not Dampen Spirits at Marys Park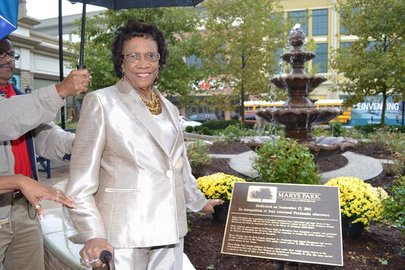 The rain fell steadily and sometimes heavily at Peninsula Town Center on September 17, 2011, but nothing was going to stop the dedication of Marys Park.
It had to happen that Saturday because it was the 150th anniversary of the day that Mary Peake performed an audacious act at that time, teaching the children of escaped slaves how to read and write.
That occurred near Fort Monroe, which was held by the union during the Civil War. Peake died a year later, but her legend has lived on in Hampton, site of Fort Monroe and Peninsula Town Center.  Now she is one of four women, all with the same first name, associated with a beautifully landscaped park at the Hampton town center.
Mary Passage, who died in 2003, was the first female principal of a large high school in Virginia. That was Ferguson High in Newport News. Mary Johnson was a teacher who also led the fight to preserve an historic African American chapel in Hampton. She passed away in July. And Dr. Mary Christian was a teacher who became dean of the school of education at Hampton University before becoming the first black female to represent Hampton in the Virginia House of Delegates. She served eight terms.
Born in 1924, Christian, still strong of voice, delivered a stirring tribute to educators in brief remarks at a ceremony on September 17, attended by a large crowed that included legislators, mayors and councilmembers representing Newport News and Hampton.  The orchestra from Passage Middle School in Newport News played and historian John Quarstein memorialized Mary Peake and her contributions to the cause of public education.
Dr. Christian said she was "truly blessed to be the last Mary standing and to be able to embrace the spirit of the other Marys", who she said were "speaking to us through the raindrops."  She recalled the words of Mary Johnson who told her in 2008, at the announcement of the park, that "everybody else gets all the attention but it's the teachers who do all the work."  She praised the Peninsula Town Center for its "foresight and vision" in honoring teachers with the naming of the green space.
We were proud to hear that since it was Rubin Communications Group that conceived Marys Park.  "I was afraid the rain would keep many people away," says Joel Rubin, "but we had a very nice crowd of friends, family and admirers of Dr. Christian and the other Marys.  We plan to do more events in the park focused on education.  The dedication was a wonderful start."