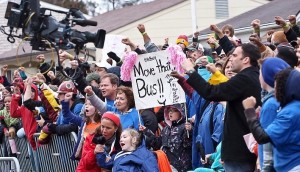 Rubin Communications Group was involved in one of the most unusual real estate projects in Hampton Roads history.  When ABC's popular Extreme Makeover Home Edition announced it was coming to Virginia Beach in February 2011, the local builder asked RCG to provide public relations services, on a pro-bono basis, again because of our agency's well-known media relations and event planning skills.
Several weeks of preparation and then intense work on the ground produced a house for Beverly Hill and her family, and thousands of memories and experiences we will never forget. Together we did what seemed impossible at the start, tear down one house, build a much larger one in its place in five days and create a stronger community at the same time.
After the house was built for a deserving local family, the executive producer of the show wrote to Joel Rubin, telling him "we could not have done this without your firm's involvement."
From our office we:
managed media relations, including all press releases and news conferences
designed and printed materials – ads, tickets, passes, banners, billboards, on-site signage, t-shirt designs and more
generated ongoing content for websites and Facebook pages,
created a theme ("It's Our Time to Make a Difference") and had an official song written and performed by Lewis McGehee,
developed and conducted fundraising events (including one, the wildly popular Extreme March, out of thin air),
coordinated the Extreme Food Drive with all three local Foodbanks, raising more food than EMHE or Hampton Roads history
secured TV/Radio/Print media sponsors and coordinated freebies and ads, well over $1 million in free advertising for the build
Sold tent sponsorships as well as recruited restaurant sponsorships to furnish every meal and snack for volunteers,
planned a Wrap Party and emceed news conferences and rallies,
staged a raffle and printed and sold t-shirts, which brought in thousands of dollars for the all-critical Build Fund
connected producers with community assets like ODU, Lynnhaven Mall, Entercom Broadcasting and more.