Joel Rubin, APR
Joel's savvy and in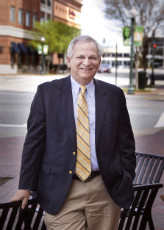 sight into the political, business and journalistic communities is the driving force behind Rubin Communications Group's strong standing in the Hampton Roads region and beyond.
His experience in the local media, including 15 award-winning years as a news and features reporter with WAVY-TV (NBC) and nearly 17 as host of a weekly Sunday morning political talk show on WVEC-TV (ABC), is unmatched among peers in his second profession, public and media relations.
What Joel took from his days as a journalist, and transferred to the agency he founded in 1991, was an adherence to strict deadlines, an inquisitive nature, solid interviewing, production and writing skills and a wide network of personal and professional relationships that continues to grow.
The employees of Rubin Communications Group are proud to have Joel as both their mentor and sounding board, ready to provide the original thought or the institutional knowledge that makes a good idea better or a bad one from being pursued.
A native of Richmond and a 1975 graduate of the University of Virginia, Joel has devoted years of volunteer service to organizations and causes including Beth Sholom Village in Virginia Beach, where he is a past President, and Temple Israel Synagogue in Norfolk, where he served as President from 2003 – 2005. Today, Joel is Chairman of the Board of the Virginia Sports Hall of Fame and is a past President of the Virginia Beach Forum. He serves on the board of the Virginia Beach Central Business District Association and Zeider's American Dream Theater.
He is a graduate of Lead Hampton Roads' Class of 2000, a recipient of citations from the Virginia Beach Human Rights Commission and the Virginia Center for Community and Justice as well as an honorary resolution from the 2005 session of the Virginia State Senate. In 2009, Joel was elected to the Virginia Communications Hall of Fame. In 2013, the Hampton Roads Chapter of the Public Relations Society of America honored Joel as its PR Practitioner of the Year.
After nearly four decades in the workforce, Joel, who has earned his professional accreditation in public relations, loves to pitch news stories, brainstorm community service programs, craft messages and encourage executives and political figures to address regional challenges. Joel is considered one of the area's top emcees and facilitators.
An avid follower of University of Virginia and Old Dominion University sports as well as the Norfolk Tides, Joel is eager to put his energy to work for clients from any industry who want a communications partner that displays keen intuition and boasts a hard-earned reputation for honesty, integrity and trust.