Jessica Woolwine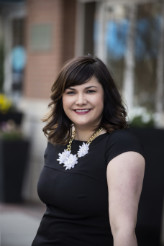 Jessica's energy, enthusiasm and creative flair enliven the offices at Rubin Communications Group. An artistic "jill of all trades," she enjoys taking a project through the entire creative process, from initial concept to writing, editing, design, production and placement.
Since 2005, Jessica has utilized a comprehensive approach to her work at RCG, creating full-service media relations campaigns for each of her clients. On a given day, Jessica might be writing a press release, designing a brochure, creating a branding campaign, placing an ad, making web changes or at the printer for a press check. Whatever the project demands, she is there to make it happen.
As a graduate of James Madison University's competitive media arts and design program, Jessica has a mixed background of marketing, public relations, graphic and web design, journalism and advertising. This combination of education and training, along with her appreciation and understanding of the dynamics of the region, make her an ideal addition to the Rubin Communications Group.
Prior to joining Rubin Communications Group, Jessica worked in marketing in Norfolk and in Falls Church, Virginia. She is a life-long resident of Hampton Roads, and the only staff member lucky enough to call the Peninsula home. She resides in York County and is mom to Jackson, Abby and Henry.
As a mother to a childhood cancer survivor and a micro-preemie, Jessica is passionate about helping other families going through similar situations. In 2014 she started the blog Mothering Miracles, which has since been featured on Huff Post Parents and other notable websites. She is a featured blogger for CHKD, serves on the CHKD Parent/Family Advisory Council and volunteers her graphic design skills for the CHKD NICU Family Advisory Council, SMILE and Roc Solid Foundation, a nonprofit organization that builds playgrounds for pediatric cancer patients (her son was a recipient).