Jenn Melendez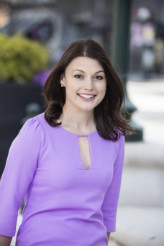 Jenn brings a dynamic background and an array of experience to the RCG team. As an Account Manager, she is the day-to-day contact with a variety of clients, ensuring that their needs are met and consistently conceiving creative solutions.
Jenn comes to Hampton Roads from New York City where she worked for a healthcare public relations agency, navigating the world of pharmaceutical PR. Her experience taught her how to push the envelope, steering through difficult review processes and policies, to achieve the optimal results. She supported multiple high-profile announcements that had to wait for FDA approvals and late-stage data readouts.
Jenn graduated from Marist College in Poughkeepsie, N.Y., with a dual concentration in Public Relations and Journalism. She is a New Englander at heart, though, born and raised in Connecticut and a clam chowder critic. She is also passionate about volunteering and community involvement and is currently the Communications Chair for the Hampton Roads Chapter of the American Marketing Association, member of CHKD's Future Generations Board and a member of CBDX (the young professionals division of the Central Business District Association).