The vast majority of our clients are good people who give back to the community.
But everyone, us included, can learn a lesson from Jim Lang, an environmental attorney with Pender & Coward in Virginia Beach.
Not only did Jim finally prevail on behalf of his own client, but he then rolled up his sleeves and convinced others to roll up theirs, to really fix the problem his advocacy solved.
Back up three years. Carmelo Gomez hired Jim, who served 25 years in the Navy, 16 as a JAG attorney, to see if he could figure out how to get a neighboring commercial property owner in Norfolk to move more than a dozen rusting vessels out of an inlet off the Elizabeth River in Norfolk. It was impassable because of the presence of what we called a "floating junkyard."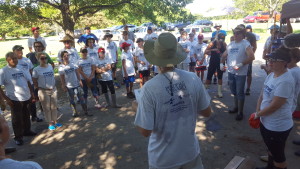 That description helped us generate quite a bit of media interest, but it wasn't completely accurate because some of the boats weren't floating at all. They were mired on the bottom of the river, which created a legal argument that finally forced the boats' owner to move them.
That followed months and months of frustrating bureaucratic delays because no local, state or federal agency seemed to want to own a solution. Fed up, Jim and Mr. Gomez filed a federal lawsuit that led the way to a settlement. Victory?
Well, almost. Jim decided that winning in court was not enough. He gathered a group of volunteers from Pender & Coward, and a local title and engineering firm that worked on the case as well, to "restore the shore."
And on a hot Saturday morning in August, 50 people, including several Boy Scouts and officials from the city's wetlands board, picked up trash, discarded ropes and other items from the muddy river bank, which bordered a large Norfolk cemetery.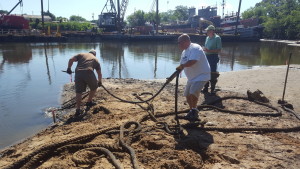 It was hard and messy work, but the group filled up a large dumpster. They will come back later and, in partnership with the non-profit Elizabeth River Project, will plant native grasses and then elevate the shoreline.
We are proud to have been at Jim's side, helping him gain audiences in front of some key agencies and raising awareness through the media. The Virginian-Pilot and all three local TV stations ran stories about the August cleanup, and we will keep pushing for more coverage as the restoration process continues.